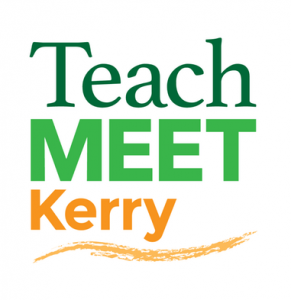 Our own next Teachmeet events are coming up on Saturday 19th November in Tullamore – but if you can't make it that far, you might be interested in another Teachmeet event happening on the same day in County Kerry!
Teachmeet and Makermeet Kerry will be held in the Gleneagle Hotel, Killarney – with a two-hour Teachmeet at 11am, and a two-hour Makermeet at 2pm, with an hour's break for lunch at 1pm.
Makermeets are areas in which teachers learn crafts such music creation, coding, interactive skills and more.
If you're interested in attending, you can register for the Teachmeet at teachmeet-kerry.eventbrite.ie, and for the Makermeet at makermeet-kerry.eventbrite.ie. If you are interested in presenting at either of these events, please register your interest at: bit.ly/teachmeet-kerry.
Both events are free to attend and all are welcome! If you can't make it, but would like to follow along online, you can follow on Twitter @teachmeetsouth or @chrisreina and use the hashtags: #tmkerry and #teachmeetsouth.
If you would like further information, you can go to irishteachmeet.wikispaces.com, or contact Chris Reina on 087 2685020 or at chris@teachtech.support.